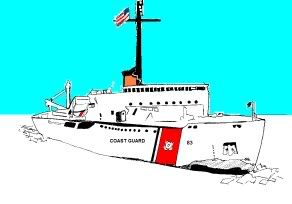 It was with great sadness that I went down to Hart Plaza on the banks of the Detroit River to say goodbye to an old friend, the US Coast Guard Cutter Mackinaw (WAGB 83).
I served aboard this fine lady in 1981, and consider it to be the happiest time that I spent in the service. She was already 38 years old when I reported to her for duty.
She is heading back up to Cheboygan, Michigan, where she is to be decommisioned in June after over 61 years of service.
She is now painted red, but this drawing reflects how she looked when I served on board.
What a great ship she was. She could break through ice up to 20 feet thick.
Some vitals:
Builder:American Shipbuilding & Drydock Company, Toledo, Ohio.
Displacement:5,252 tons
Length:290 feet
Beam:74.3 feet
Draft:19.5 feet
Speed:15 knots
Propulsion:6 Fairbanks-Morse 10cyl. Diesels 10,000 shaft horsepower
Anchors:2-6,000 pound Bower stockless with 2 inch diameter links
Crew:8 Officers, 67 enlisted
Fuel capacity:276,000 gallons
I understand she is to be turned into a museum. Rest well, old girl. You have earned it !