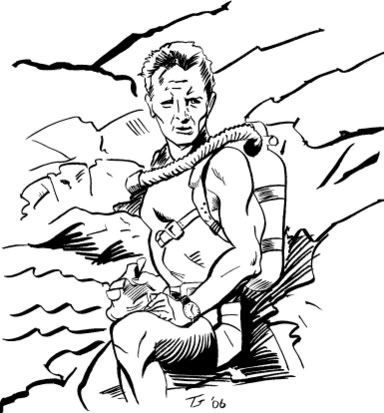 My drawing for
Illustration Friday
is another childhood memory that sparked my interest in the water and my joining of the Coast Guard.
Sea Hunt
was a TV show that, along with
COMBAT!
was standard fare at my house after school.
Retired Navy (although they showed him wearing a Coast Guard officer's uniform at least once that I remember) Diver Mike Nelson, now an undersea private investigator, patrolled the seas aboard his specially equipped vessel, the
Argonaut
in search of sunken treasure and other stuff that a young boy thought was way cool. Underwater fights between Mike and the bad guys abounded, usually resulting in somebody getting their airhose cut (I could never understand why they just didn't stab each other, must have been worried about sharks I guess) , or many stories revolved around being trapped underwater with his limited air supply running out. Although fans were treated to a host of Mike's undersea dangers, no body ever died. At the end of each show, Lloyd Bridges would do a voiceover plea for mankind to save the Oceans as the Argonaut sailed into the sunset.
Lloyd Bridges was a great leading man, and character actor whose career was sidetracked in the 50's because he was blacklisted by the House on Un-American activities because as a very young man he had briefly been a member of the Communist party. He really was more interested in films than doing a TV show at the time, but with a wife and two boys (Beau and Jeff), he had to put food on the table so he took the job. I for one am glad he did. He went on to do some great comedies in the 80's and 90's ala Leslie Nielsen.
Not only this show, but
The undersea world of Jacque Cousteau
stoked my interest in the water. If there is such a thing as re-incarnation, I wonder if Lloyd is now a dolphin swimming the seven seas. I know that's what I want to be when I come back. Getting back to using only the #4 brush when applying ink. It's harder to do and much more technical than using a uniball pen (like I did on Bettie), but I think it gives each piece an "old school" comics look.