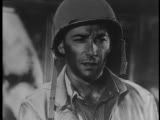 I have been told that I need to update my blog so I have tapped a childhood memory for my subject. Back in the mid-sixties, COMBAT! was the longest running TV series about WWII, and I was a HUGE fan. Although I thought Saunders (Vic Morrow) was very cool, Lt. Hanley (Rick Jason), was always my personal fave. Rounding out the cast of characters were Caje (Pierre Jalbert), Doc (Conlan Carter), Littlejohn (Dick Peabody), and Kirby (Jack Hogan). Rick's life ended tragically with a self inflicted gunshot wound in 2000, just after attending a show reunion where he was said to be in high spirits. He was 78. It is ironic that Vic Morrow also died (in 1982) under equally tragic circumstances (he was killed while filming a scene for "Twilight zone, the movie", and was decapitated when a helicopter crashed after an explosion caused it to lose control. John Landis the director, barely escaped jail for manslaughter, but that's another story).
In the opening of his autobiography,
"scrapbooks of my mind"
,
Rick talks about his suburban life on a quiet cul-de-sac, and how the niehborhood kids come around whenever they are bored or need help with something, like he was sort of the Grandpa of the street, none of the kids knowing that he was once a big TV star. To them, he was RJ, the old guy down the street. They knew nothing of his boyhood struggles with anti-semitism (Rick was Jewish,as was Vic Morrow,but really secular, not practicing. His real last name was Jacobson), joining the Air Corps at the outbreak of WWII, struggling to find acting work in New York, his B-movie career in the 50's, acting in COMBAT! in the 60's, more film work (mostly overseas, there is a hilarious story about a film he did in Israel called "Eagles attack at dawn") Guest star and TV commercial voice-over work (he was Toyota spokesman on TV in the 80's, and was very popular in Japan, where COMBAT! was huge in re-runs), 5 marriages, world-wide travels, hunting and fishing trips in South America and Africa, just so many experiences of such a full life. Sometimes I wonder if people like this (Hemingway, another person I admire, comes to mind) just can't adjust to a normal life. No longer the center of attention, maybe not as rich as they once were, no longer in the Jet-set, they become bored with life and want to see what is next. He never had kids, so he didn't have that tie to hold him here. I wish I'd have gotten the chance to meet him, as he was one of the people who unknowingly taught me what a man was supposed to act like. I did the sketch below a few months back. My scanner does not do it justice and I am thinking of inking it, but if I do it'll be on tracing paper over the original. So Rick, if you can see this from wherever you are, I hope you like it.